The GUCCI belt comes along with a high point price and ample bragging rights, but for the price, is it indeed made of good quality materials?
A GUCCI belt (including the GUCCI Double G belt) is a good quality belt , as it is made from long-lasting full-grain leather and durable antique brass. With proper care and storage, an authentic quality GUCCI belt can last decades.
Are Gucci belts tacky
Yes I'm no woman (plot twist), though this is a question I get asked constantly based on what I write about – because I do the research Involved with knowing about such things. I.e. I do my homework.
Price tag aside, a Gucci belt is not tacky, but rather is an investment piece, due to its versatility, ageless style, and overall solid build quality, much like a leather jacket. What makes it tacky is is how you dress it up.
Here's why Gucci belts are not tacky
I always like to pair the Gucci belt example with the "diet coke" example.
It's not the diet coke that necessarily is making people gain weight, rather, its the overweight people who feel like drink diet coke – diet coke hasn't really done anything (relatively speaking.)
Likewise, the Gucci belt is not the inherent problem, it's the fact that many who buy it buy it solely because it's an "expensive brand", and who treat it like Aztec gold – people just need to come down.
The Gucci belt is not Aztec gold, but its a damn fine belt, made by a renowned century plus fashion house who've remained at the top of their game since inception.
And for the price? It's all relative…
Here is a piece by miamimine.com that goes over the numerous ways one can style their Gucci belt. You just need to get creative and not feel beholden to pairing your Gucci belt with other "flash" items ALL the time – that's when it comes off as snooty and/tacky.
Why are gucci belts so expensive
Let's get into the meat & potatoes of it all, the price tag of your gucci belt, and why is it so damn expensive…
A gucci belt is expensive as your not just paying for the price for materials, but you're also paying for the value and status GUCCI as a +100 year brand represents, their items are highly limited in quantitiy. You're buying GUCCI primarily for its exclusivity.
The breakdown of Gucci's "lavish" price tag:
What makes GUCCI so expensive?

Internationally recognized

Made to measure made accesories (not mass made)

Reknowned eye catching colors and design

Reputation for hiring famous designers

Known for re-igniting old and faux pa fashion trends - making them relvevant again.

Some past designers have been of full blown celebrity status (i.e. Tom Ford & Alessandro Michelle.)

"Limited limited limited" edition

Exlcusivity is what GUCCI relies on

Each product has a limited manufactured run (i.e. products are not available for long.)

Hand made with strenous quality control ensures each product is "perfect" - this takes time, ensuring limited quantity.

The best materials (authentic)

Goes above and beyond by focusing on little details in there products.

Products are primarily sourced and produced in Europe (high manufacturing costs with no shortcuts taken.)

Products are made with competitive level artistry along with flawless working conditions (happy worker = happy employee.)

High standards of quality control

Employ only the best experts in their respective fields around the world

Styles designed are designed to be timeless

Each process and guideline is followed religously to the letter - along with rigrous testing conducted upon GUCCI products to ensure extreme durability.

Manufacturing and product costs

Products are of the highest quality

Spares no expense for skilled laboreres and exquisite designers.

Cutting edge designs and modern processes to guarantee products keep geting better.

High overheads - Marketing, store rental etc.

Operates over 450 stores globally

GUCCI's marketing is everything (for perspective: competitor "LVMH" spent over 4.9 billion Euros in 2020.)

Due to GUCCI's increasing popularity each year, they have to increase price

High price setting is an aspect that makes the brand attractive (prevents the fanbase from becoming too oversaturated due to overhwhelming demand.)

Brand positioning within the marketplace

Brand is known for sophistication, creativity and innovation - this is represented in the price which makes it "worthy" for most.

Since 2014 has become more social media saavy and become known as a tour de force with millenials (with over 50% sale increase coming directly from millenials.)

Become synonomous with self-esteem, prestige, and status among its customers thanks to its trending status among relevant celebrities. 

Puts customer satisfaction at the forefront, ensuring continued satisfaction even after purchase.

GUCCI offers a tailored repair service as well as expedient communication - meaning your problems are handled quickly. 
how long do gucci belts last
In case you didn't know, the coveted GUCCI Double GG belt belt is an extremely versatile fashion accessory due to its simplicity, which means you can wear it, often.
So with such wear and tear, how long does a GUCCI Double GG belt actually last?
Let's start with what the public has to say about the durability of their Gucci Belts…
The video review above goes over the wear and tear of the GUCCI GG belt over a span of 8-9 months. As you can see from the video, the Gucci belt looks mighty fine, with no leather discoloration of fabric scruffing – not bad.
But what about longer than 8 months? Can the GUCCI GG belt last longer than that?
In this article by whatveewwore.com, they go over the dynamics of the Gucci belt and go into detail about their experiences wearing it over 200 times over a span of not one, but 2 years.
"After two-and-a-half years of use, the belt has shown little sign of wear – amazing considering how often it has been worn."

Whatveewore.com
Though they did mention that proper maintenance and storage plays a prevalent role in ensuring long-lasting quality – such as storing it away from sunlight, and properly coiling it up when not in use.
Can the GUCCI belt get scratched?
Accordign to Miamiamine.com and their trials with the brass GUCCI belt, they noticed minimal scratching and tarnishing over the bronze buckle itself after two years of rigorous usage.
Also Gucci's belt buckle is made of antique brass buckle, which means it also will hide watermarks and blemishes etc.
Antique brass or aged brass is more of a statement finish than polished brass. This beautiful finish is treated to appear aged and typically has a rich brown town with slightly golden undertones. With a warm finish, it doesn't shine or reflect anywhere near as much as polished brass, but therefore hides watermarks and blemishes so much better.
But this is only a few blogs/vids, so here's a whole forum thread on the very question…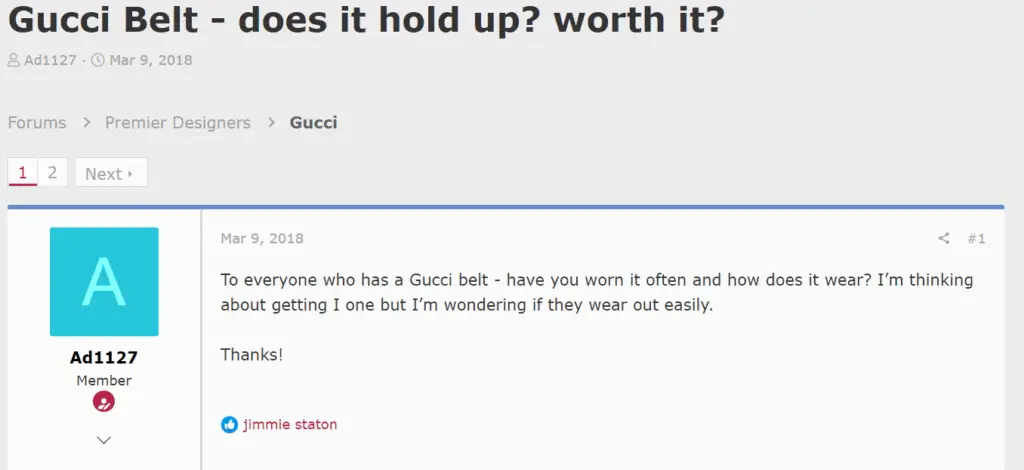 The countless responses seem to be in favor of the Gucci belt.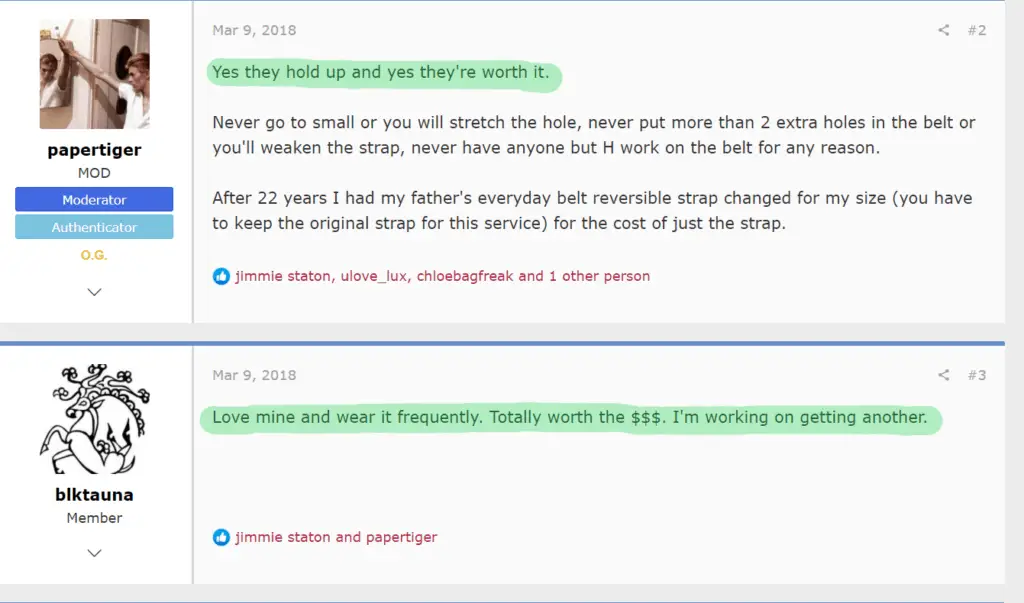 Apparently the GUCCI belt is outlasting the Golden Girls too…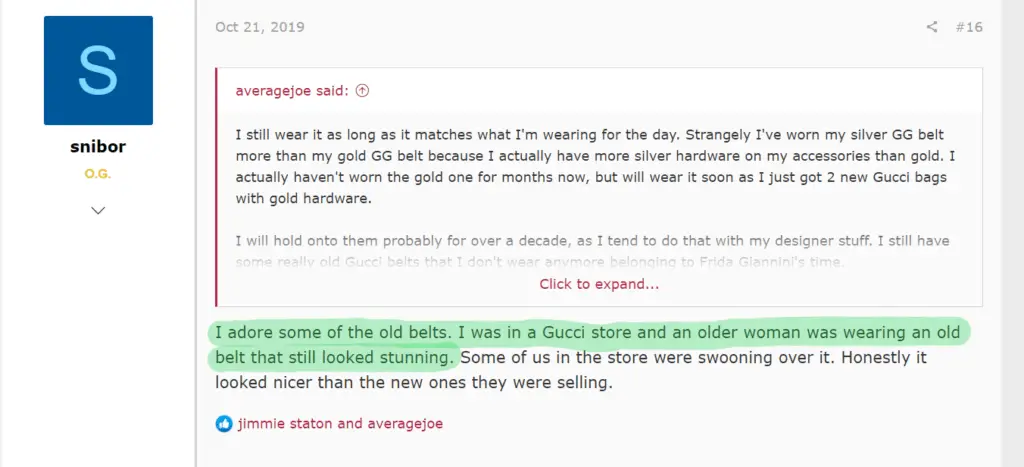 According to most of these ladies, your GUCCI belt should last you a MINIMUM of 2 years with little to no scratches if you take care of it.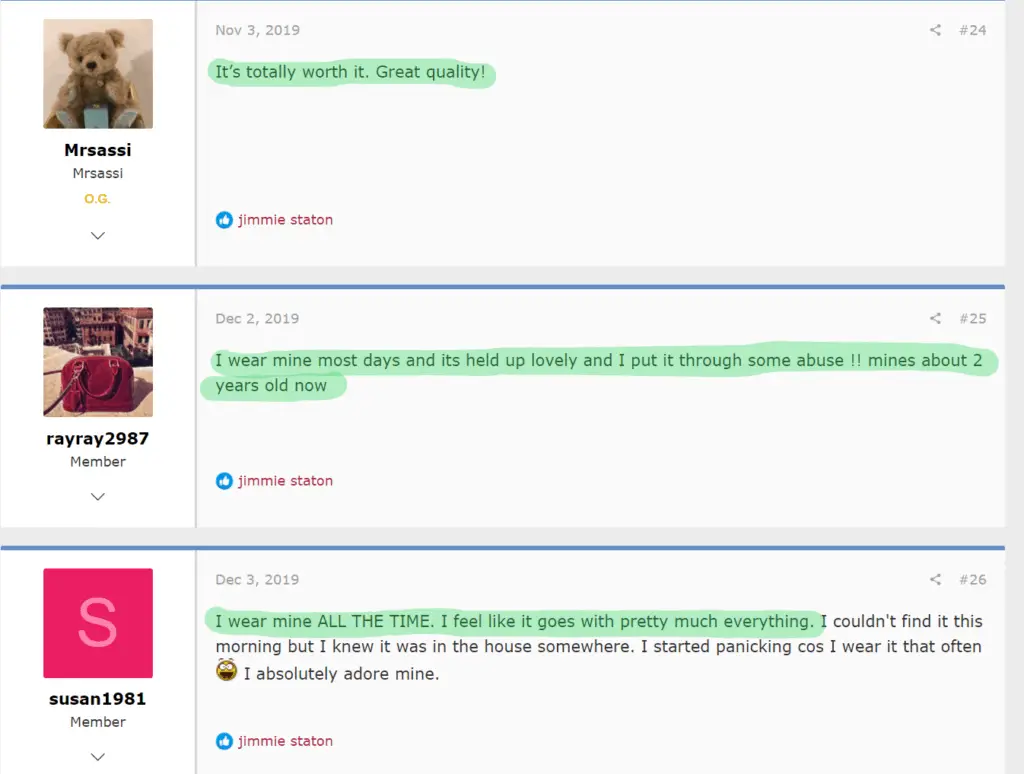 Now let's see the science behind of what a Gucci belt is actually made of – how durable is it according to science?
How durable is the gucci belt?
The double G Gucci belt is a very sturdy belt that should last years thanks to its full-grain leather material and strong brass buckle.
This is because the materials that the Gucci belt are actually made up of full-grain leather and antique brass) are designed to take on a beating.
The incredible durability factor of full grain leather is already widely known among most, however did you know that antique brass is also highly durable as well? As well has some benefits over regualr polisehd brass.
Antique brass is designed to look aged, less shiny, and less reflective – which is a good thing for your Gucci belt buckle.
Due to antique brass not shining anywhere near as much as polished brass, this will allow your GUCCI brass buckle to hide watermarks and blemishes that much more!
how long do gucci belts last
A GUCCI belt can last for years easily if you follow the proper procedures involving storage, leather conditioning and maintenance, and by avoiding such elements like direct sunlight.
According to the official GUCCI website, below are the requirements to ensure your GUCCI belt lasts for as long as possible:
To get a more accurate idea of how long your GUCCI belt will last (if proper procedure is followed), let's take at the individual materials that a Dboule G GUCCI belt is made of, and let's see how strong they actually are.
According to Net-A-Porter.com, the wide leather Double G GUCCI belt is made up of:
Black smooth "supple" full-grain leather
How long does full-grain leather last?
According to a previous article that I wrote on "leather jacket durability", full-grain leather is the strongest of all leathers and naturally is the most resistant to wear & tear – making your Gucci belt incredibly durable straight off the bat.
What about the brass buckle of your GUCCI Double GG belt?
According to elesi.com antique brass is the same as polished brass, but rather is simply treated to appear aged with warm undertones. Polished brass or simply "brass" is an incredibly durable material that won't rust, is anti-corrosive (compared to steel), and can last for years – up to 1,000!
Best conditioner for GUCCI leather belt
A GUCCI full grain leather belt is the same as a regular leather belt (albeit a lot more expensive.) Though there are a few options when it comes to how to best condition your GUCCI leather belt.
The best leather conditioner for your GUCCI belt are:
Coach Moisturizer (link to Amazon.com): Under $15
Coach Leather Cleaner (link to Amazon.com): Under $15
Apple Brand Leather Cleaner & Conditioner Kit (link to Amazon.com): Under $20
Seventh Generation Baby Wipes Value Pack (link to Amazon.com): Under $30
Yes wet wipes are naturally a good and affordable leather cleaner that is very gentle on all types of skin (including leather skin.)
Or feel free to check out my resource page right here for more information on conditioners and leather treatments.
The Double G Gucci belt comes in two types of leather, smooth vs/ textured (the latter being heat-stamped), along with 2 buckle
gucci belt 3cm and 4cm
The Gucci Double GG belt (aside from cm in legnth) comes in varying widtht options, going all the way up to the 3 and 4 cm width option. The 3 & 4 cm latter options are intended for men, though also look good on women!
The Gucci belt 3cm and 4cm option are the perfect option for men, and/or women looking for a thicker belt size. The difference between the 3 and 4cm option will be noticeable, especially for a woman.
I recommend for men to stick with the 4cmn Double G Gucci belt option, as the larger width size (in my opinion) will complement our thicker torso and larger waist.
Good to note for you ladies looking for a unique gift to give your man!
Here is a comparison between a 3 and 4 cm Gucci belt ( both links to GUCCI.com) :
As you can see, the visual difference is noticeable, so do have a good ponder over what belt will truly fit you and your sense of style – before you buy it!
Style tip: Never go too small or you will stretch the hole and never put more than 2 extra holes in the belt or you'll weaken the strap.
Is a Gucci belt worth it?
Yes a Gucci belt is worth it due GUCCI's use of long lasting quality materials like full grain leather and antique brass, along with their high standards of product quality control, and of course their renowned brand image.